October Holiday Programme
The Pars Foundation October Holiday Programme
The Pars Foundation ever popular October Holiday Programme returns with two weeks of coaching at Dunfermline High School.

This October the Pars Foundation will be giving kids the opportunity to access some first class football coaching in Dunfermline with the aim of helping children between the ages of 3-12 to improve their football skills and confidence whilst having fun in a safe environment.

As with all Pars Foundation coaching programmes, the emphasis will be on enjoyment, learning new skills, meeting new friends and participating in many small sided games. All coaches are SFA Licensed and Disclosure checked.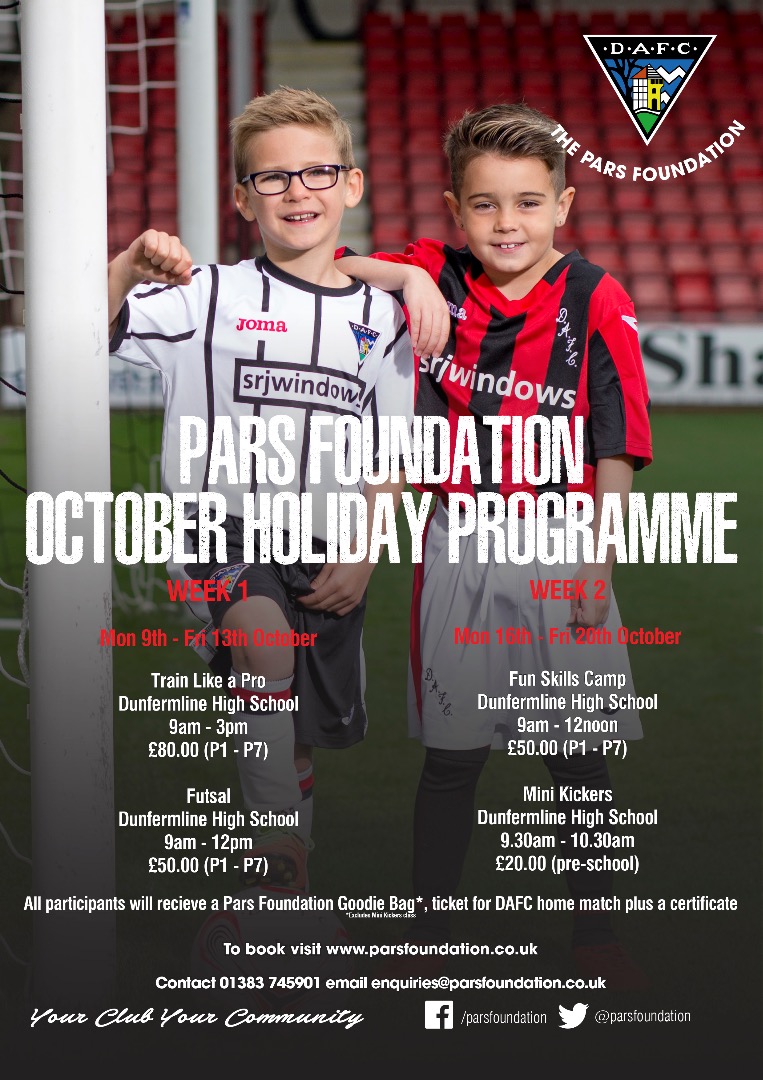 Week 1 – Train Like a Pro – 9-3pm

Action packed full day football camp – For more information and how to book CLICK HERE.


Week 1 – Futsal – 9-12pm

Futsal is an exciting, fast-paced small sided football game that is widely played across the world - For more information and how to book CLICK HERE.


Week 2 – Fun Skills – 9-12pm

Half day football camp introducing the skills of Ronaldo and Messi - For more information and how to book CLICK HERE.



Week 2 – Mini Kickers – 9:30am – 10:30am

Pre school football suitable for 3-5 year olds - For more information and how to book CLICK HERE.

For more information email - enquiries@parsfoundation.co.uk or call the coaching team on 01383 745901




views: 569